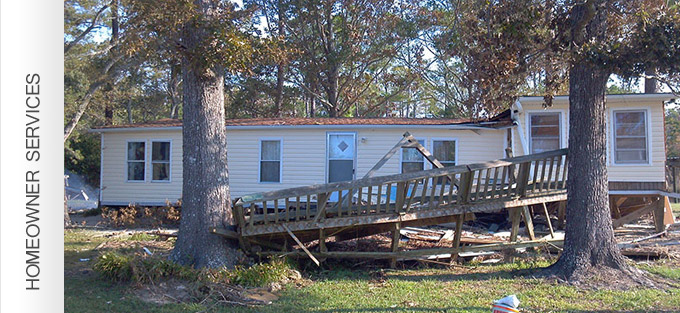 Manufactured Homeowners Insurance
Manufactured homes have special needs. We are proud to be one of the largest agencies in Central Florida writing manufactured home insurance. WHO your are insured with is just at important as the policy that covers your home. Our companies are some of the finest in the state. Your policy should be with a company that has experienced, or has leadership that has experienced hurricanes in Florida.
When Charley came through in 2004, our agency personally helped with over 2500 claims. Our wonderful employees left their damaged homes and came to work every day. We had no power for 10 days. Our generators kept the computers and phones running, our families all pitched in answering phones, taking claims and fixing our roof that had blown off. It was truly one of our proudest moments knowing we provided the service that was expected by our clients in their time of need. Our companies have the same commitment to you.
There are many types of policies available. Some policies are written similar to homeowners policies. Many policies DO NOT include replacement cost on the home and contents. The losses are settled at ACTUAL CASH VALUE which doesn't pay the entire loss, only the depreciated value. Become familiar with your policy and ask questions. Is there replacement cost coverage on the home and personal belongings in the home? Check the limits inside the policy for furs, jewelry, fine arts, business property etc. Most of these items can be added to your policy by endorsement or on a personal articles floater. Check the exclusions for flood, animal liability, earthquake, wear and tear etc. Gaps in your manufactured home insurance coverage often result from changes in your lifestyle. For instance you might decide to add on a deck, carport, screen room or a spare bedroom, adding an office or using your personal computer for business purposes (THIS IS NOT COVERED UNDER YOUR HOMEOWNERS POLICY!!). You need to contact your agent.
The normal accumulation of possessions, jewelry, artwork, etc. can add a lot to the value of your contents. By reviewing your insurance needs regularly, you'll keep your insurance up to speed with you busy life. As your home changes, so should your insurance. Have you had your anchoring system inspected? There are new standards and homes need to have them checked to be sure they are not rusted through. Evaluate your liability exposures. Does your policy offer enough liability coverage for your needs? An expensive lawsuit could result from an injury on your property or damage to the property of others. A Personal Umbrella should be a consideration. A regular insurance check up is a simple preventative measure that can spare you financial pain when a claim happens.