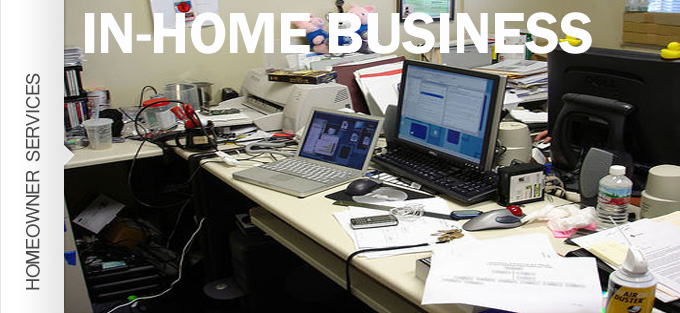 YOUR ROOF COVERS YOUR IN-HOME BUSINESS --- DOES YOUR HOMEOWNERS POLICY?
If you operate a business out of your home, you may be surprised to learn that many Homeowners and Renters policies do not cover losses from business activities. Whether you own the business or not! Over 25 million people operate businesses out of their home. Computer Consultants, Accountants, Sales Consultants, Mary Kay and Avon representatives, just to name a few. Most of them were lucky. Some, however, had a fire… or were robbed… or were sued. Many didn't have the proper insurance and went out of business because of an uninsured incident. The question to ask yourself this year is, "Do I feel lucky?"
We have available a special program for in home businesses that covers the client who slips and falls, the fire that's in your home and your office or the theft of stock out of your garage. Premiums start at around $250. You can receive comprehensive protection for your business. Damage to customer's goods… theft coverage…medical payments to those injured on your premises…liability protection- you'll receive coverage for this and more. Don't let an accident destroy your business and life. Contact us today!!!